My mummo had died this morning 5am our time in Pori, Finland. It was heart-wrenching because C and I planned to visit her for Christmas. She had lived a full life for eighty years. She was married at age 18 and was widowed at 60. She was the first daughter of nine kids. She had five children, nine grandchildren, and four great-grandchildren (my niece, one of them). She was coherent and lively all way to her last day. She was my mummo. Sirkka Mari Majuri, minuä rakastan sinua.
Sirkka "Mummo" Majuri
August 29, 1926 to November 1, 2006.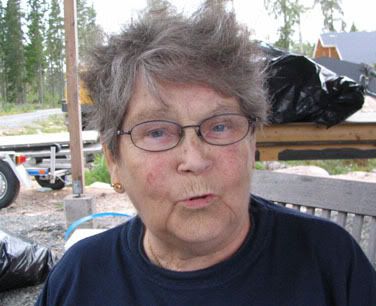 My Äiti(mother) and mummo(grandmother)
Tidbits:
Mummo was the first daughter of her family. My mother is the first daughter. I am the first daughter. We all have the same middle name because we all are the first daughters. I have Mummo's thin lips. Äiti has learned from Mummo the infamous Finnish stare which C claims I have inherited. I do have a lot of memories of Mummo even though we did live far away from each other. She always visited me in America (dozen times) and I visited her four times in Finland so far in my lifetime. The language barrier never stopped us. She never learned English. I struggled to learn Finnish. But we always managed to communicate somehow-- she did use ASL, some HSL, and some Finnish signs to me and I would write some minimal Finnish while I grew up. I always looked forward to her home-made cookies (which I received a box last summer).
She was my grandmother.